With the spread of smartphones, we have entered an era where videos can be shared and consumed more easily than ever before. Also, with the spread of telework and side jobs accelerating, more and more people want to earn income on YouTube.
Recognition of the profession of "YouTubers" is increasing, and that's why video editing is one of the skills that is currently attracting attention. Under such circumstances, video editing software is flooded, and which editing software is better to use? It's getting harder and harder for beginners to decide.
Also, since YouTube viewers are becoming more discerning, poor editing can lead to frustration because the number of views and channel subscribers will not increase. So, let me help you to find the best tool to get you started with YouTube.
Wondershare Filmora is a complete package editor for beginners to intermediate users. The intuitive interface is easy to use, and it is popular among YouTubers and people who edit videos for work because it is easy to get used to if you are switching from other video software or just starting in the video editing field.
Spice up your videos with tons of effects, transitions, elements, and more, and split-screen templates make it easy to play two videos side-by-side. In addition to motion tracking and keyframe functions, you can use over 20,000 effects and automatically recreate the aspect ratio for each social media such as YouTube and Instagram etc.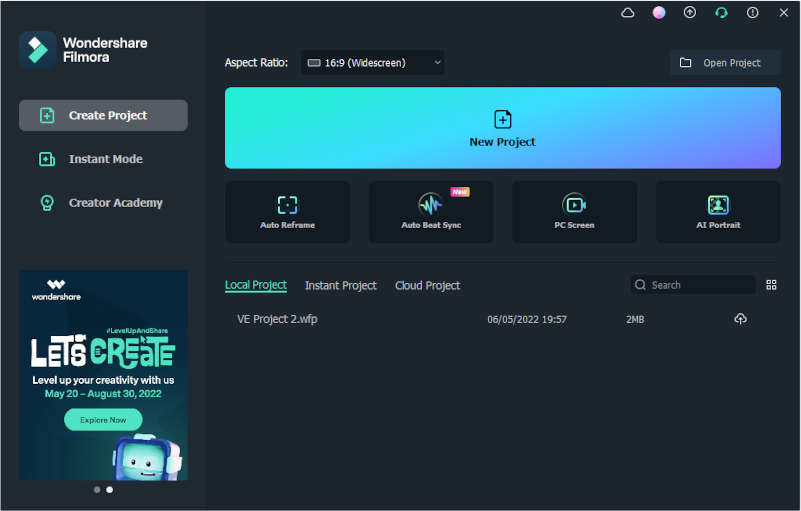 Its lightweight and can be used even if the PC spec is low
Some people think that video editing can only be done on a high-spec computer, but there is software that doesn't require high-spec PCs, and Filmora is one of them. It is video editing software that is light enough to run on most personal computers even with an i3 processor and 4GB ram.
Intuitive to use even for beginners
If you are new to video editing, the editing software looks complicated, and you might not know where to start, which can lead to frustration. However, it does not mean that Filmora is easy to use as there are few functions, but all the functions are neatly organized, and the UI is easy to use even for beginners.
Motion Tracking
Track the movements of objects or people in your videos and pin media files and graphics to magically track every move. For that, just set up your stuff and let Filmora follow its path automatically. You can also adjust the size and position of the tracking area displayed during the preview. It comes with AI automation to allow adding texts and titles and lets you add a mosaic to your moving objects if you want to blur something.
Plenty of templates
Since Filmora is software for beginners, it is not possible to do detailed editing, such as creating detailed effects yourself. However, you can freely use high-quality templates that even advanced video editors cannot create.
It has 50+ free music resources, 250+ text templates, 200+ transitions, 150+ video filters, 250+ effect templates and nearly 200 elements (gif material), and a lot more. Since each template can easily reproduce the editing that a professional uses, this is the best editing software for those who want to edit like a pro easily. Furthermore, since you can download additional free and paid template materials from the official distribution site, it seems that you will never run out of templates.
Keyframes
With keyframing, add energy and dynamism to your videos and use animated effects. It simplifies animation and allows you to quickly apply changes, such as enlarging, rotating, shrinking, etc. Simply set the start and end keyframes and let Filmora automatically add all frames in between while ensuring consistency. You can customize keyframes by setting location, transparency, size, etc. Filmora offers over 80 pre-made animation templates that save you time.
Unique Editing Functions In Filmora
Video Editing
Tons of video effects
Filmora offers more than 900 video effects for free that you can just drag and drop. Filmora has cooperated with OpenFX, Boris, and NewBlue for offering us video effects to deliver a purely cinematic experience.
Boris FX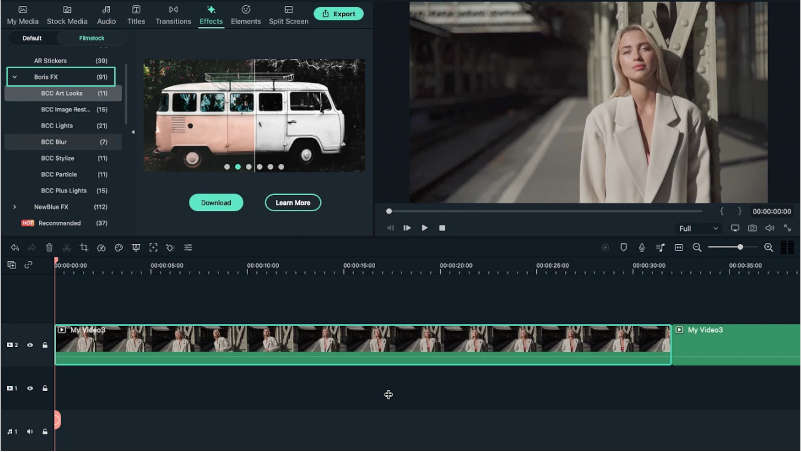 Enhance your storytelling experience with Boris FX Continuum, a premium effects plugin. You'll get six unique Continuum units customized to add visual effects, including lights, stylizations, particles, image restoration, artistic looks, and blurs. Each of those 6 units has different filters, and corresponding presets. It offers 91 effects and thousands of unique presets.
NewBlue FX
Boost your video creativity using NewBlue FX. It offers five effect collections – Title Pro 7, Video Elements, Video Essentials, and Video Stylizer. Each effects collection has factory-installed presets, including over 500 custom title presets and over 100 effects.
Speed Ramping
Create unique cinematic effects by slowing a portion of your video or suddenly speeding it up. You can have better control over the speed ramp using keyframes to adjust the speed of your video. Filmora has six preset speed ramping effects- Montage, Hero moment, Bullet Time, Jumper, and Flash in, which can be very helpful for performing a professional speed change effect. Well, speed ramping only the video can make the audio weird, and that's why Filmora also offers to maintain the original audio while speed ramping.
Instant mode
Due to Filmora's Instant Mode, production and editing only take a few minutes. You can choose between instant mode and full mode when you first launch Filmora. You are in charge and have better control over your YouTube video while using full mode. Snapshot mode automatically produces video for you. You just need to import clips, choose a music track, and select a pre-programmed theme in this mode. Filmora completes the remaining analysis and editing.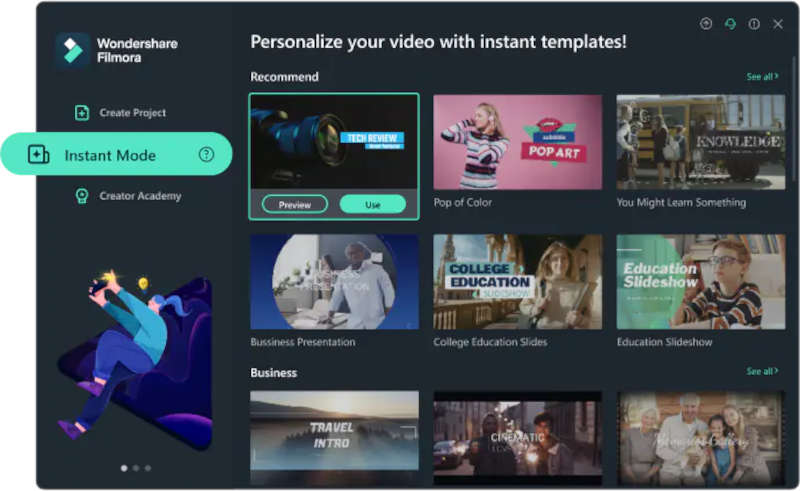 This option is great for beginners who don't want to waste too much time making simple YouTube videos but still want to get the job done. The maximum number of edit tracks you can have on your timeline in snapshot mode is eight, which is great for simple tasks.
AI Portrait
This is a fantastic plugin that you can use to easily remove the background with optimum precision. You will get 70+ AI sticker effects and portraits also Filmora's AI can also detect faces to provide AR stickers to enhance human emotions.
Green-screen
This amazing video editor is simply one of the best with the green screen feature, which can help you change the background in no time. Green screen is a fun tool in video creation processing, allowing you to overlay subjects with different virtual background video clips to create cool videos, such as giant and dwarf, flying superman in the sky. You can record videos with or without pure green background and use Filmora Video Editor green screen feature to create special videos.
Mask and smudge
You can create creative videos using the mask and smudge feature. All you have to do is cover your video clips and mix them. This easy-to-use feature offers many ingenious modes. You can even use overlays to edit, hide or reveal your videos and choose any shape like a rectangle, heart shape, triangle, flower shape, etc. and adjust the height, width, location etc., and save the videos.
Audio Editing
Speech to Text (STT)
This plugin allows audio transcription to accurate subtitles in one click to save time and improve editing efficiency. This tool will automatically detect the voice for transcription and allow you to modify it according to your preferences. It supports different import formats like SRT format while providing a timeline feature to edit subtitles.
Text-to-speech (TTS)
Filmora offers a TTS function to enable the conversion of text files into voiceover to enrich all your videos. Adding voice to video is easy with this tool that delivers incredible precision by leveraging state-of-the-art algorithms. You can customize the voice and choose from the available languages.
Auto Beat Sync
Synchronize video clips by editing them with accompanying music using the Auto Beat Sync feature. Filmora offers Auto Montage Maker, the first of its kind in the world. It can help you automatically synchronize video with music and analyze beats to change views or add visual effects. It can also identify and eliminate bad parts of your video like darkness, jitter, etc.
Silence Detection
This feature automatically detects parts of a video with moments of silence and removes them according to to set criteria to help you create high-quality videos without annoying pauses.
There are different subscription plans included in Filmora. You can choose the annual plan, which has a price of $49.99, or there is a lifetime subscription plan which has a price of $79.99. While it might not be as cheap as its other competing software options, it is reasonably priced, considering you get a host of amazing benefits and features.
Do you want a reliable and best video editor for YouTube — well, there is definitely no better option than Wondershare Filmora.