At the same time as the Echo Show 15, Amazon presented another Alexa product — a robot called Astro. The presentation was mainly about making video calls or using it as a mobile surveillance camera.
"In five to ten years we believe that every home will have at least one robot. They will become a central part of everyday life," reason for which they have launched Astro, a robot capable of moving around the house, performing tasks, monitoring or controlling that everything is alright.
Initially, Amazon Astro will only be available in the USA and will provide an outlook on how small robots could accompany life in the future. It is intended to help users in everyday life — including keeping in touch with the family.
It has numerous sensors, cameras, the digital voice assistant Alexa and can move autonomously, for example, when nobody is at home, and transmit a live image of the home to the user via the Astro app or trigger an alarm if an unknown person is detected. Periscope camera should provide the best possible overview. Astro can also be sent on a targeted trip if you want to go to a certain place.
With Alexa Guard, Astro can also capture the acoustic signal from a smoke or CO detector or from bursting glass and sound an alarm. In addition, certain zones in the house or apartment can be defined that the robot is not allowed to enter.
Amazon Astro is also intended to help older people cope better with their everyday lives. On the one hand, by allowing family members to set reminders, on the other hand, by maintaining closer contact with the family via drop-in via Alexa.
Astro also has a button that can be used to turn off the microphone and camera on the device. Then all movement functions are also deactivated, and the robot no longer moves. Amazon did not provide any information on battery life.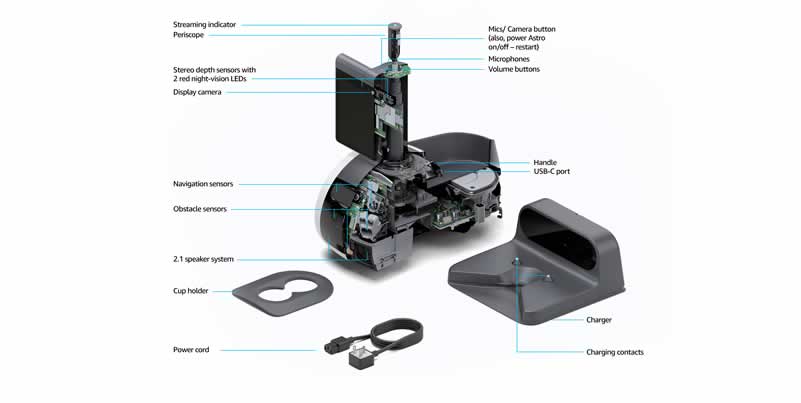 The market launch is planned for the end of 2021. In the first phase, the robot will be available for $1000. The regular list price will be $1500.