Apple has unveiled its next-generation M3 family of chips, accompanied by new MacBook Pro and iMac models. The latest member of the Apple Silicon family promises unprecedented performance, efficiency, and capabilities, setting a new standard for both casual users and professionals.
Apple M3 Family:
The M3 family of chips, which includes the M3, M3 Pro, and M3 Max, is built on industry-leading 3-nanometer technology. Resulting in a faster and more efficient next-generation GPU, marking the biggest advancement in graphics architecture ever for Apple silicon. The M3 chips also introduce a groundbreaking technology called Dynamic Caching. This feature allows the GPU to allocate the exact amount of local memory needed for each task in real-time, significantly boosting GPU utilization and performance.
Specifications of M3, M3 Pro, and M3 Max:
| Feature / Chip Model | M3 (Basic) | M3 Pro | M3 Max |
| --- | --- | --- | --- |
| CPU Cores | 8-core | 12-core | 16-core |
| GPU Cores | Up to 10-core | 18-core | Up to 40-core |
| Memory Support | Up to 24 GB | Up to 36 GB | Up to 128 GB |
| Dynamic Caching | Yes | Yes | Yes |
| Codecs Supported | AV1, H.264, Prores, Prores-RAW, HEVC | AV1, H.264, Prores, Prores-RAW, HEVC | AV1, H.264, Prores, Prores-RAW, HEVC |
| Special Features | – | 40% faster than M1 Pro (16-inch model) | 50% more CPU performance and 20% more GPU performance compared to predecessors |
| Technology | 3-nanometer | 3-nanometer | 3-nanometer |
| Ray Tracing and Mesh Shading | Yes | Yes | Yes |
| Battery Life in MacBook Pro | Up to 22 hours | Up to 22 hours | Up to 22 hours |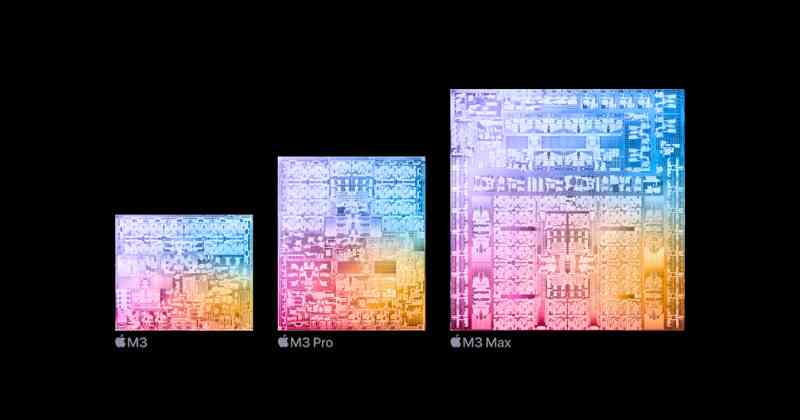 Performance Metrics:
According to Apple, the M3's performance cores are 15% faster than the M2 and 30% faster than the M1. The efficiency cores have also seen a significant boost, with a 30% and 50% increase in speed compared to the M2 and M1, respectively. When pitted against an Intel Core i7-1360P, the M3 CPU, with its 4 performance cores and 4 efficiency cores, outperforms the Intel chip by over 10%, all while consuming just a quarter of the power.
GPU Capabilities:
The M3's GPU is almost 70% faster while consuming a fifth of the power compared to its predecessors. It also supports a wide array of codecs, including the new AV1 codec, in addition to H.264 acceleration, Prores, Prores-RAW, and HEVC. The neural engine responsible for AI acceleration has been improved by around 15% compared to the M2 and a staggering 60% compared to the M1.
The M3 in New MacBook Pros and iMacs
The new MacBook Pro models can be configured with all three M3 processors, offering up to a 16-core CPU and 40 GPU cores. They promise twice the rendering speed in Cinema 4D compared to their M2-equipped predecessors. The iMac comes with the basic M3 version but is said to be twice as fast as its M1 predecessor.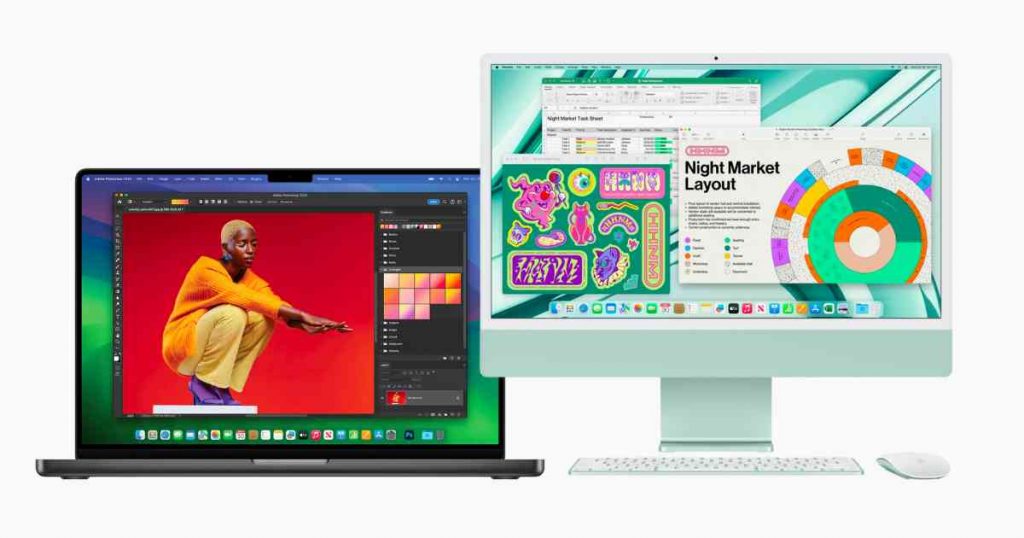 Both the MacBook Pro and iMac models feature a Liquid Retina XDR display that is 20% brighter, a built-in 1080p camera, an immersive six-speaker sound system, and a wide array of connectivity options, including Thunderbolt 4 and HDMI. The new MacBook Pro offers up to 22 hours of battery life and can be charged via MagSafe 3 or USB Type-C.
The 14-inch MacBook Pro with M3 starts at $1,599, while the M3 Pro and M3 Max models start at $1,999. The 16-inch MacBook Pro starts at $2,499. The iMac with the M3 SoC starts at $1,299.