Apple has presented iOS 16 at WWDC 2022 along with iPadOS 16, watchOS 9, macOS Ventura and two new MacBooks powered with Apple M2.
The new iOS 16 focuses on customization, and in this sense, it is now more similar to Android.
The new iOS 16 gets a new lock screen that users can customize more. Fonts, colors and many other elements of the layout can be changed and extended with widgets. The widgets arrange themselves below the clock.
The new OS also manages multiple lock screens to toggle between — much like Apple Watch watch faces. Notifications should no longer cover the lock screen but be either hidden or placed in a stack.
The focus function is extended to the lock screen so that the appropriate settings and widgets are displayed depending on what you are doing.
For the Messages app, with iOS 16, Messages sent can be edited later or even deleted. Users can edit or recall a message up to 15 minutes after it was sent, or recover recently deleted messages up to 30 days after deletion. Like e-mails, messages can also be marked as unread in the future so that they can be answered later. In addition, the Shareplay function comes to this messaging application, which allows you to share the playback of music, series or movies with your contacts in real-time.
Another feature that has gotten an update is Live Text and it now includes text recognition in videos. It is enough for the user to pause a video at any time so that this system based on machine learning can recognize the content and translate it directly into the text.
Wallet on Apple iPhone expands with iOS 16 support to include identification documents and contactless keys. And now they can be shared through messaging applications such as WhatsApp or the iPhone's own Messages app. Within Wallet, they have added a new financing program called Apple Pay Later, only available — for the moment — ​​in the United States. Small amounts can be paid in several instalments without interest. The dealer must support this function.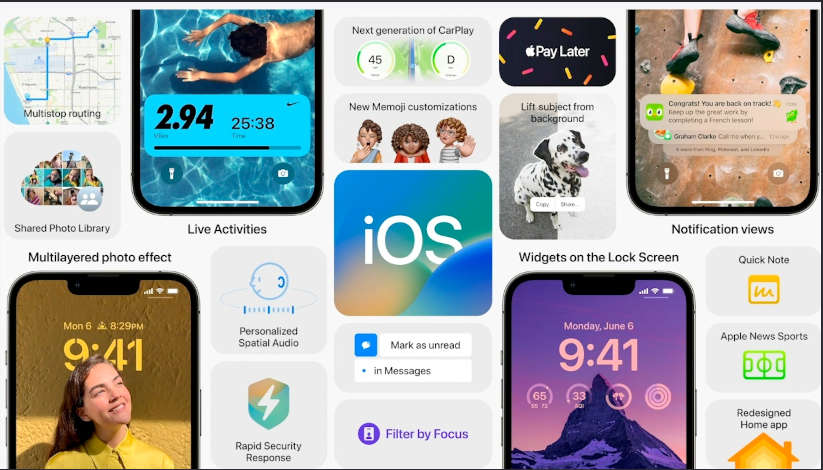 As for the Photos app, Apple launches with iOS 16 its new feature called iCloud Shared Photo Library. A library separates from personal iCloud backup where authorized people can view, edit, and manage the created album. 3D audio playback can also be customized by users in iOS 16. In addition, there is the Quicknote function.
The Maps app now supports up to 15 stopovers and also allows new stops to be added during route use, including with Siri voice control. Also, Siri can run shortcuts on iOS 16 and iPadOS 16 as soon as an app is loaded, without any prior setup.
The Homekit home control now supports Matter, allowing cross-platform collaboration with compatible devices from other manufacturers. Categories in the Home app let you unhide devices by category.
Last but not least, in iOS 16 Apple has increased the dose of privacy by including the Safety Check feature. This is a new settings menu that allows you to stop sharing your location, reset privacy permissions and protect access to your messages. This selection of functions to restrict is aimed at both apps and people, in order to create a safer space within our iPhone.
iOS 16 will initially be tested extensively by developers and volunteer testers in a beta phase before it is finally released to all users. Only those who have an iPhone 8 or later, or an iPhone SE 2020 or later will be able to update to the new iOS.