In addition to iOS 16, iPad OS 16 and macOS 13 Ventura, Apple also presented watchOS 9 at WWDC 2022.
Like the previous version, watchOS 9 is still very conservative when it comes to big changes. Most of the new features are limited to improving many small aspects of the watch, mostly focused on usability.
Personalization has always been one of the most relevant points of the Apple Watch, and with watchOS 9, four new watch faces arrive, from a lunar calendar to a background that changes depending on the time of day.
Apple has also changed the interface for Siri and Podcast, which is updated to embrace some of the features of the Mac and iOS versions, as well as integrating some Share Play features.
The Training app has been redesigned to provide more comprehensive metrics. With watchOS 9, new personalized training plans are introduced and new alerts can be added, including pace, power, heart rate and cadence.
WatchOS 9 includes a much more accurate heart rate monitoring tool. Heart rate zones will give you deeper insight into the intensity of your workout in WatchOS 9.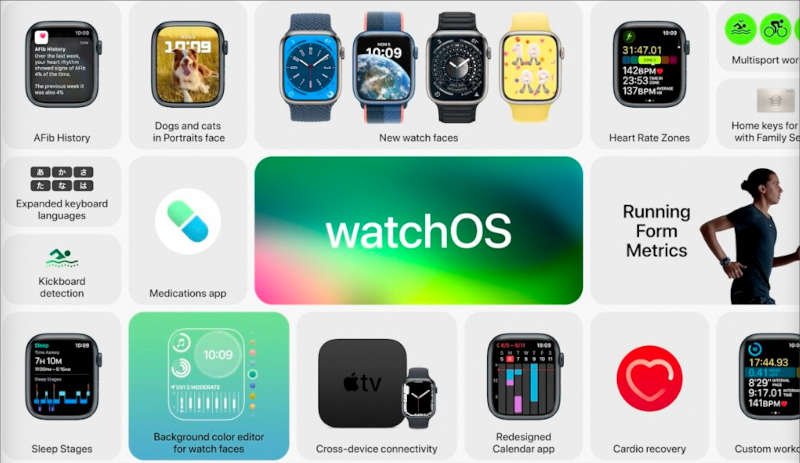 Sleep tracking for watchOS 9 has also been revamped. Apple Watch will now be able to detect when users are in REM or deep sleep, being able to identify the different stages of sleep. These improvements are due to the enormous study that wearables have enabled in recent years and advances in machine learning models.
With watchOS 9, patients can plan and monitor their medication intake. If you want, you can also document side effects and make the data available to your doctor.
The health app in the watch can remind the user to take medication. Medication lists can be created and managed on iPhone to set up schedules and reminders. Not only can users be reminded via their watch as before, they can also confirm their intake.
Apple has not yet confirmed the exact date, but the new version is expected to be available in September. Although, the watchOS 9 beta will arrive a few months earlier during the summer.
In addition to the Apple Watch Series 8, these are the models that will be compatible with watchOS 9 — Apple Watch Series 4, Series 5, Apple Watch SE, Series 6 and Series 7.