The second quarter of the year brought AMD once again more sales than expected and again shown strong growth compared to the previous year in all segments.
Compared to the previous year, sales rose from $1.932 billion to $3.850 billion and profits even increased from $157 million to $710 million.
AMD boss Lisa Su was delighted with the extremely positive business result, which shows that the company was able to increase its total sales by an impressive 99 percent in a direct year-on-year comparison. Operating income, in turn, was $831 million, a margin of 22 percent.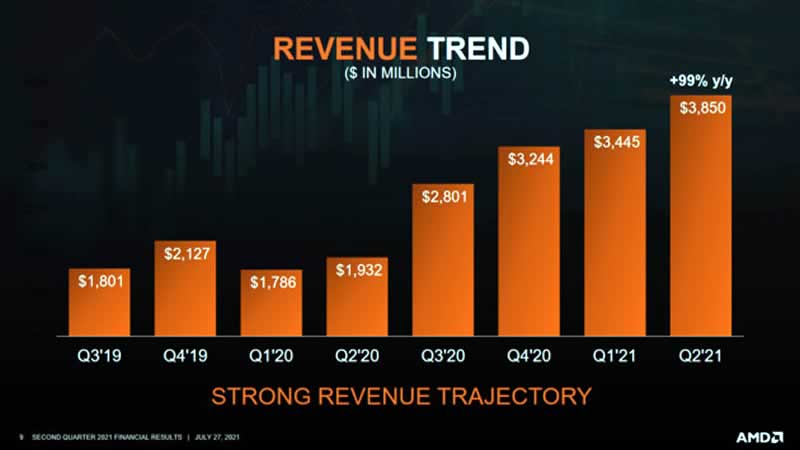 As usual, the two major divisions of the AMD brand, graphics chips and processors, are largely responsible for this. The Radeon and Ryzen department was able to increase its sales from $1.367 billion to $2.225 billion, and the profit was $526 million.
The growth in Enterprise and Semi-Custom is even more significant, with AMD booking its Eypc CPUs for servers and console SoCs for the Playstation 5, the Xbox Series X/S and Valve's Steam Deck, among others. Instead of $565 million, sales reached $1.6 billion and profits multiplied from $33 million to $398 million.
For the third quarter of 2021, AMD expects sales of a high $4.1 billion, and for the full year, sales are now expected to increase by 60 percent instead of 50 percent. This would be around $15 billion, which would be a new record.
The official presentation of the quarterly figures for Q2/2021 provides further details and even deeper insights.
Meanwhile, AMD has announced a share buyback program worth $4 billion and the $35 billion takeover of Xilinx is scheduled to be completed as planned in 2021.