AMD has introduced the Ryzen 5000C, an APU series designed for Chromebooks. The new Chromebook processor should increase the battery life in addition to the CPU speed.
The Ryzen 5000C comes with Zen 3 microarchitecture — offer includes four models with up to 8 cores and 16 threads. The SoC has 16 MB L3 cache and supports DDR4-3200 and LPDDR4X-4266 memory. Up to a Vega 8 is used as the integrated graphics unit, i.e. an older architecture with up to 512 shader units. The new chips are manufactured at 7 nanometers and have a TDP of 15W.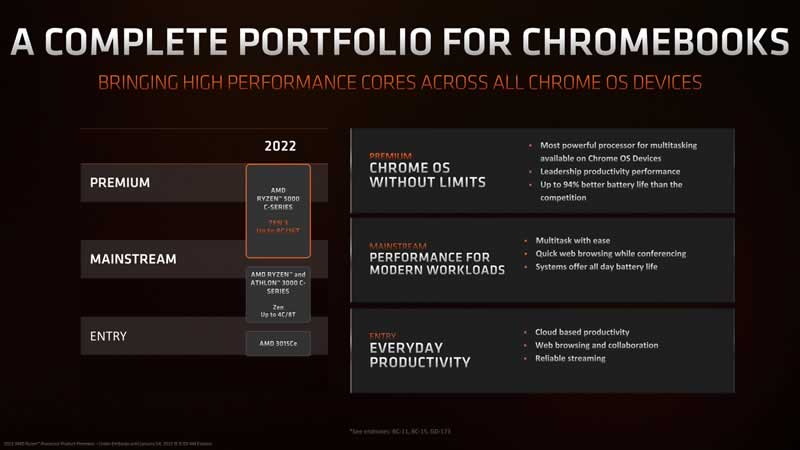 The Ryzen 7 5825C is the best proposition, with 8 cores and 16 threads operating at 2 GHz base to accelerate up to 4.5 GHz. Onboard 20 MB of L2 + L3 cache and a Vega 8 GPU clocked at up to 1, 8 GHz.
Then there is the Ryzen 5 5625C with 6 cores and 12 threads operating at clock rates of 2.3 GHz (base) and 4.3 GHz (boost). The L2 + L3 cache is equal to 19 MB, while the integrated Vega GPU counts 7 Compute Units up to 1.6 GHz.
Ryzen 3 5425C is a quad-core with 8 threads with frequencies of 2.7 GHz (base) and 4.1 GHz (boost). On board, AMD has inserted 10 MB of L2 + L3 cache, as well as a Vega GPU with 6 Compute Units operating up to 1.5 GHz.
Finally, the offer is completed by the Ryzen 3 5125C, a dual-core with 4 threads that it runs at 3 GHz. The L2 + L3 cache is 9 MB, while the integrated GPU is limited to just 3 Compute Units up to 1.2 GHz.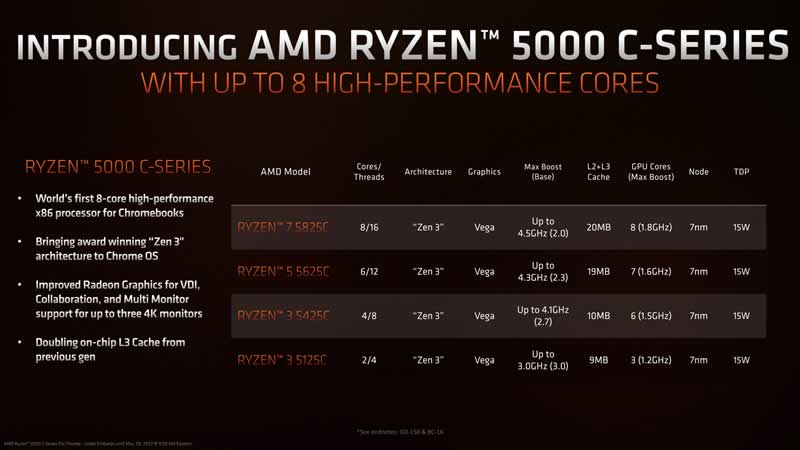 In terms of battery life, a Chromebook with a Ryzen 5 5625C should last an enormous 94 percent longer than one with a Core i5-1135G7. Chromebooks with the Ryzen 5000C should last up to 13 hours.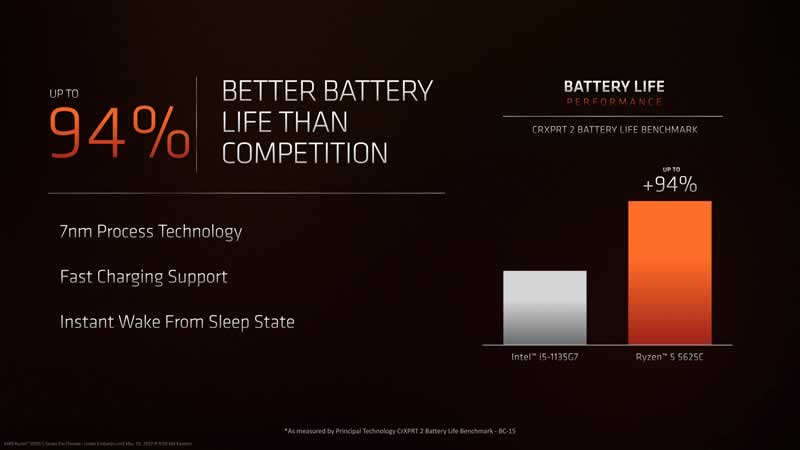 The first devices with the new AMD processors include the HP Elite C645 G2 Chromebook, which should be available in the current second quarter of 2022, and the Acer Spin 514 Chromebook from the third quarter.