Apple took advantage of WWDC 2021 to introduce iOS 15, the next generation of its operating system for the iPhone. The new iPhone operating system adds improvement in almost everything, including FaceTime, messages, notifications, search, photos, Apple Wallet, weather and Apple Maps.
New notifications
The main change users will see in iOS 15 includes notifications. Apple has added a function called Notifications Summary, a kind of notification centre similar to the one we have seen previously on Android. Apple's idea is that these notifications will be organized depending on their relevance and the attention they require.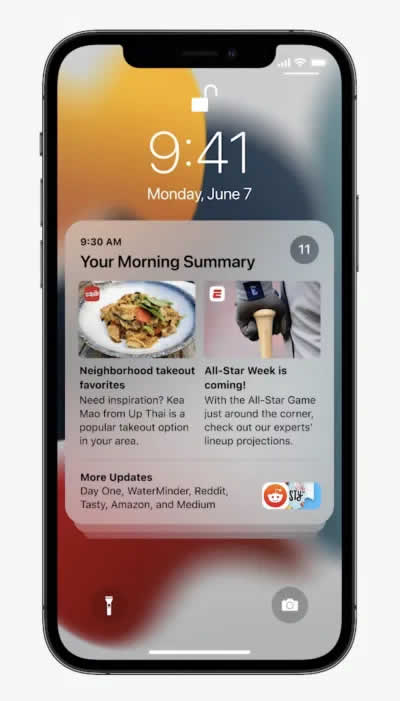 With this new notification centre, we will be able to better distinguish what types of notifications, and we will be able to organize them and give priority to the ones we want the most. We can schedule this summary of notifications to appear by grouping the notifications we want depending on the time, either in the morning or at night.
In the context of notifications, Apple also adds what is known as the Focus mode. This will allow us to focus on specific tasks, whether personal, work or sleeping — options that we can also edit, and through which the system will take care of the rest.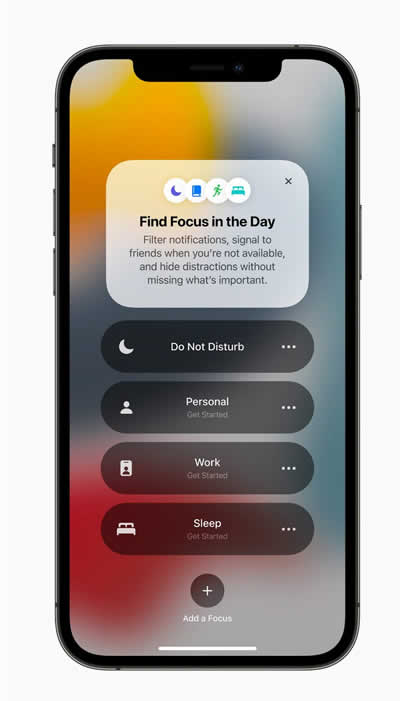 For example, if we focus on work, we will only receive notifications from work applications. The same with the personnel field; We will only receive notifications from our friends and family, and we can choose which friends and family have priority in Focus.
Facetime
Apple explains that they have worked to make FaceTime video calls more natural. In the first place, they will offer support for Spatial Audio in such a way that it will be like talking to people in person. In addition, they rely on artificial intelligence to block ambient sound, thus achieving focus only on voices.
Another feature that debuts in the service is the Grid View. That is, a mosaic view quite similar to the one offered by platforms such as Zoom. Clearly, Apple's idea is for FaceTime to become a serious alternative to the aforementioned service.
Additionally, Apple has added the possibility of creating specific links to join FaceTime calls that, in addition to being able to share, will allow us to access these video calls even from a browser through Android or Windows.
Apple has also announced SharePlay, a feature for sharing all kinds of content in a FaceTime call. With this function, the members of the call can listen to music in sync with Apple Music and even watch series and movies via streaming. Again, everything synchronized at the moment, regardless of the chosen devices or the Internet connection.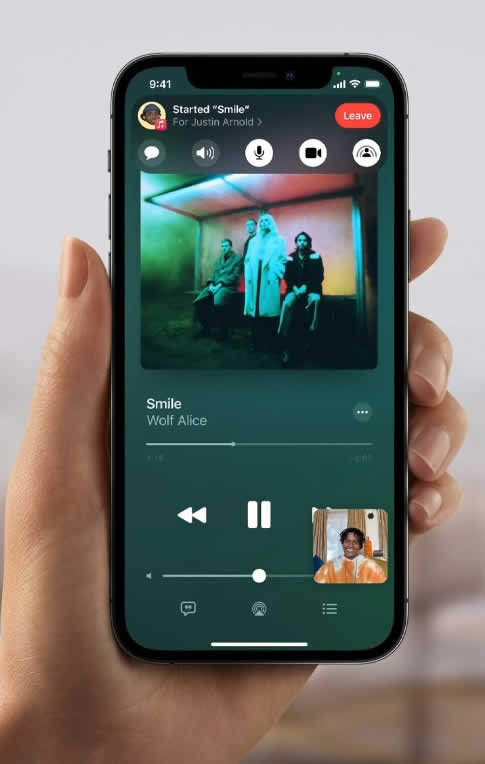 All of this can be controlled through new controls at the top of the screen. SharePlay is interactive; the members of the call will be able to modify the reproduction queue or interact with the streaming video that is being reproduced. In addition, it is compatible with Picture-in-Picture for viewing on a small screen and with AirPlay. We can send the video to our Apple TV without ending the call. Streaming platforms such as Disney+ and HBO Max have already announced compatibility.
iMessage
The iMessage application also receives improvements. Now, iMessage will group all the content received in a small collection dedicated to a separate section so that we can consult it at all times. Focus and Do Not Disturb mode will appear directly in our iMessage status. That is, if someone wants to send us a message and we have any of these modes activated, the system will notify the group or contact so that they are aware of it.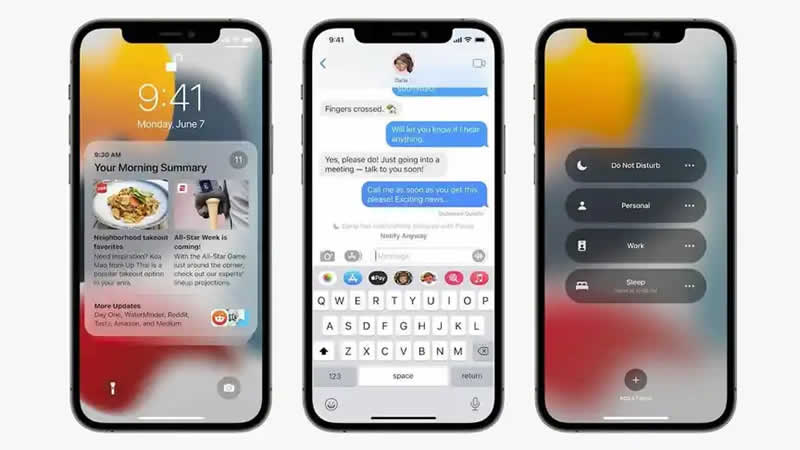 Photos
iOS 15 does not leave behind Photos, as Memories can now add background music to enhance your experiences while watching them. iOS 15 integrates smart features like Live Text. This allows us to capture text from a photo and use your information. A function very similar to what we see in other apps like CamScanner, but integrated directly into the camera.
In addition, at the same moment in which we take the photo, we can both resize the photo so that it shows us only the surface of the text as well as select it directly from the photo.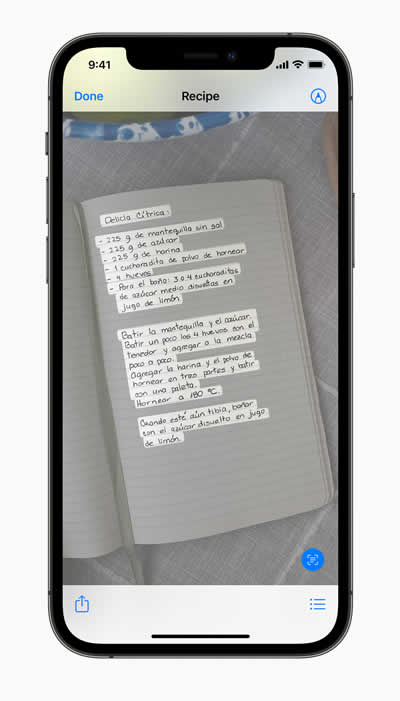 This includes copying the text, pasting it to other sites, and so on. Also, Live Text will detect information from this text. If it has a phone number, we can call directly to that number that appears in the photo without having to copy the phone number. Live Text works on all platforms, even with web photos or screenshots.
Live Text picks up what the Google Lens see and applies machine learning to recognize elements within these photos and give us information about them. Additionally, images will now appear in Spotlight searches, a feature that many users have been requesting for years.
Safari redesigns
Apple has revamped the Safari browser interface so that it can be controlled with one hand. The tab bar is now floating and is located at the bottom of the screen. The groups of tabs also make their debut, which you can access from your iPhone, Mac or iPad thanks to the synchronization between devices.
Changes in more apps
As we say, iOS has mainly focused on improving its applications. Very important applications of the ecosystem are improved, such as Wallet, Weather or Maps. The Wallet will allow us to carry our keys on the iPhone. We can take the keys to our car, or even our house. The compatibility of these keys with Wallet will depend mainly on third-party manufacturers, and BMW will be one of the first to have this feature in iOS 15. Now, spatial audio is available on Mac, FaceTime, and Apple TV. AirPods get better too.
The health app also has numerous new functions. Apple calculates the risk of falling while walking with the help of the sensors integrated in the iPhone and Apple Watch and compares the values ​​with other users. If the walk becomes too unsafe, the app warns the user.
New privacy
Apple once again emphasizes privacy, one of its most important keys. Now, we can hide our IP, our location, and we can also hide which emails we open. In addition, a small space will be included in iOS where we can review all the activity related to our applications and how they behave both with the system and with other third-party applications.
We may review third-party apps that have activity with our apps. In addition, we can check when these applications interact with our smartphone and can even check the exact time it was done.
Supported devices
iOS will also offer the choice between two software update versions in the Settings app in the future. Users can update to iOS 15 or stay with iOS 14 and still import important security updates. So far, most security updates have only been available for the latest iOS version.
The developer version of iOS 15 is now available. The public beta test is scheduled to start in July 2021. Surprisingly, iOS 15 is compatible with all iPhone and iPod Touch models currently running iOS 14.
These iPhone and iPod Touch models are supported by iOS 15:
iPhone 6S and 6S Plus
iPhone SE (1st generation)
iPhone 7 and 7 Plus
iPhone 8 and 8 Plus
iPhone X
iPhone XS and XS Max
iPhone 11
iPhone 11 Pro and 11 Pro Max
iPhone 12 Mini and iPhone 12
iPhone 12 Pro and iPhone 12 Pro Max
iPhone SE (2nd generation)
iPod Touch (7th generation)