One of the most anticipated events of the year is finally taking place. After several months of doubt, finally, Apple will present its long-awaited iPhone 12 on October 13 at 10 am PDT, or 10:30 pm IST.
As usual, Apple has sent an invitation to the attendees, without telling anything about the event, except for the date and time. Like the iPad and Watch event in September, this event, too, will be held virtually.
As always, the invitation poses a riddle. A bright orange Apple logo in the middle of three eccentrically arranged bubbles does not allow any spontaneous conclusions about what the Californian manufacturer wants to show us. The motto "Hi, Speed" is likely to be a phonetic conversion of high speed. With this, Apple could allude to the 5G modems presumably installed in the upcoming iPhones, which can theoretically achieve data rates of up to 10 GBit / s in corresponding networks.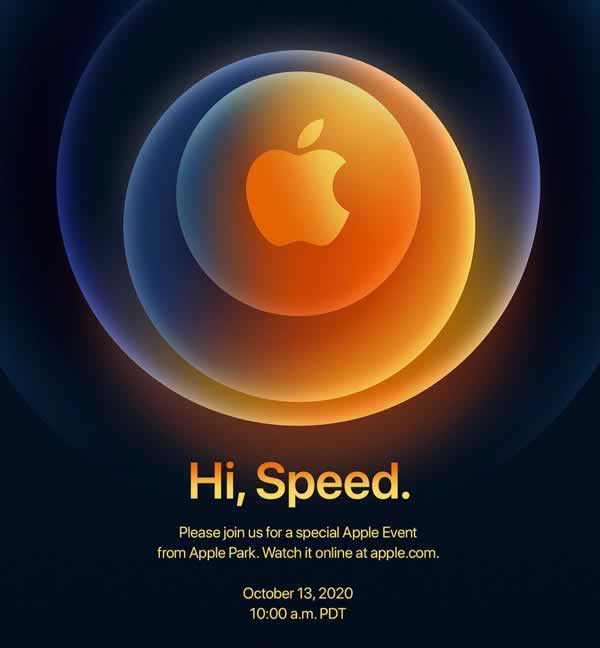 Still, we do not know exactly what Apple will present at the event. That is, we know that the iPhone 12 will present, we can take that for sure, but what is still not totally clear is which iPhone 12 models, with what specifications, prices, and dates of arrival on the market.
We speculate that the list will be iPhone 12 (5.4 inches), iPhone 12 Max (6.1 inches), iPhone 12 Pro (6.1 inches), and iPhone 12 Pro Max (6.7 inches).
At this point, all that remains is to wait a week to actually know what Apple has in store for its users. Do not miss it.