Qualcomm has presented its new SoC with 5G connectivity for mid-range mobiles, the Snapdragon 780G, with which it intends to make a leap in performance compared to the 765G.
The Snapdragon 780G has it all to be the new king of processors in the mid-range with 5G, thanks to its Snapdragon X53 5G modem. This new chip is faster, supports displays with up to 144 Hz refresh rate, and improves support for cameras.
Snapdragon 780G is based on a new Kyro 670 CPU at a speed of 2.4 GHz, as well as a new Adreno 642 GPU. With those changes, Qualcomm promises a 40% performance improvement over the previous generation on the processor alone. More impressive is the 50% improvement in graphics performance.
The processor has support for screens with up to 144 Hz refresh rate, which is an important advance in the mid-range on Android. Applications that use 3D, such as augmented reality, should also be better noticed. However, it still lags behind the performance of the Snapdragon 888.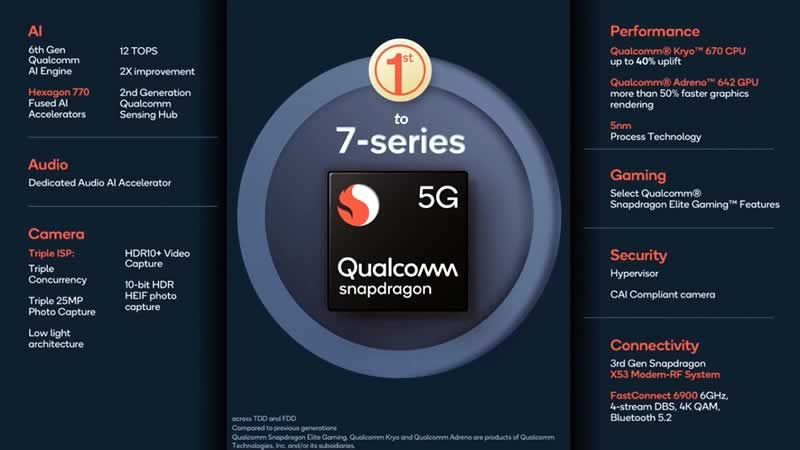 Snapdragon 780G has a Spectra 570 image signal processor, which is capable of taking photos from three different camera sensors at the same time. It has support for sensors up to 25 Mpx in triple combinations, up to 64 + 20 Mpx in double and single cameras up to 64 Mpx.
n addition, this chip comes with a new low-light photography architecture that includes a number of important improvements in this field. It also features 4K video recording.
The processor uses Qualcomm's FastConnect 6900 system, seen so far only in the high-end range, with the Snapdragon X53 5G modem. Thanks to this, it gives us a speed of up to 3.3Gbps in 5G, in addition to having compatibility with WiFI 6E with maximum download speeds of up to 3.6Gbps, compatibility with 2.4GHz/5GHz/6GHz bands, 5G dual SIM, Dynamic Spectrum Sharing, and more. It also has Bluetooth 5.2 and support for the Snapdragon Sound platform.
Qualcomm does not forget about artificial intelligence, with the sixth generation of Qualcomm AI Engine and a Hexagon 770 processor capable of performing 12 TOPS of operations (12 trillion).
Qualcomm has confirmed that the Snapdragon 780G will arrive in the second quarter of this year. The brands that will use this processor have not yet been confirmed, but it is called to be one of the most popular options in the mid-range with 5G. So surely we see brands like Xiaomi, OPPO, Realme, and many more make use of this processor in their mobiles.