It is an obvious fact how marketing emails and spam emails annoy us regularly. Primarily the gaming and gambling ones which are composed in such a way to attract potential new customers or even regular punters to join the play again.
Though most of us might ignore them at any given moment the way they are written, the reader develops the urge to initiate the "call to action" as devised by the marketing emails and cause irritation or even disturbance in daily life.
Ways To Stop Receiving Marketing Mails From iGaming Companies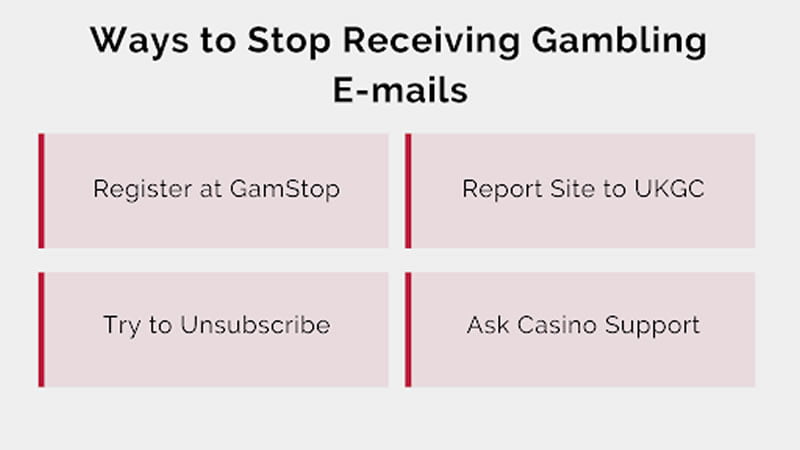 Use Blockers Like GamStop
There are numerous ways to deal with such annoyances, and one of the most effective and efficient ways is to use blocking software such as GamStop, Betblocker, NetNanny etc. According to NonStopCasino.org, this software cannot block some casinos not on GamStop, you can check more info about this topic. These are independent non-profit software and exclusion schemes made to help the vulnerable punters or even new players to keep their addictive urges and emotions in check by blocking the spam emails and their origination parent gambling websites, thus preventing them from the brutal possibility of going bankrupt.
The GamStop is a software developed by the United Kingdom Gambling Commission, which is an independent scheme that helps the regular gambler or even a newbie who just got introduced into the play and didn't want to be addicted to it; such individual software, as mentioned before blocks all the gambling websites along with marketing emails granting the registered person an exclusion from the play for their voluntarily selected amount of time which may range from six months up to five years and it free for registration to for the punters who are citizens of UK.
They restrict the user entirely from opening any blocked website until the minimum chosen period is over. In this way, these schemes and software assist the addiction victim greatly to develop better habits and lead a better life. The only catch is that the software, as mentioned before, doesn't only block emails and spam messages. They block the websites of gambling too. Therefore it might be inconvenient for a few customers who want to get rid of the emails and not the sites, and they might be better off referring to the other ways of blocking out the spam emails and messages. Gamban is another such software, similar to GameStop, which assists in the same way.
Seek Support From Casino Operator
The other most convenient way to get rid of the emails is to seek support from the Casino Operator if unsubscribing from their newsletter doesn't help much. All legitimate registered casinos have simple principles laid around responsible gambling. Contacting them to omit your name from the marketing list is a definite way to ensure that you will not receive any such disturbance through the ads sent by the respective casino operator anymore.
There are various ways of contacting the operator made available for customer experience. Anyone can use these helpline numbers, Live-Chats, and Forums to seek help in the respective matter from the operator. Casinos registered under UKGC or offshore licensing agencies usually act shortly and swiftly on such reported issues to preserve the name and the dignity the casino beholds.
Report to the UKGC
Suppose you still can't seem to get any assistance from any of the above. In that case, you continue to receive emails from spam websites that do not even have anything to do with the Casino Operator or the customer. You can report such spam emails to the United Kingdom Gambling Commission (UKGC), and they will immediately assist you in the concerned matter. You can also report them to the Information commission's office to stop receiving the emails.
The people who don't want to develop such gambling addiction or punters who want to quit gambling might also use Email filters and Spam guards to buzz off these mails right at their arrival. Software that belongs to email protection services and looks over your email transactions classifies such suspicious transaction activity and segregates them as "Dangerous" based on the voluntarily chosen criteria of the user.
Software such as GamStop and GamBan offers much help with their extended forums and programs to aid the punters to stay away from devised email rabbit holes and pitfalls so that the punters might reach out to Helplines and online discussion rooms to acquire better habits. The BGC (Betting and Gambling Council) has already partnered with the English Premier League and the clubs to make sure that gambling ads are not shown to any minor, to set an example against such spam advertisements to the under 18 citizens.
Conclusion
To sum up, everything stated so far, Software and Helplines to stop the spam emails from reaching your inbox, are available in abundance. They mindfully prevent you from forums, Groups, emails, and Websites that are very attractive to anyone and urge one to put their money at risk and save you from the worst nightmares of Bankruptcy.