After the first so-called "Crypto Mining Processors" of the type CMP 30HX and CMP 40HX, MSI is the first manufacturer to have a dedicated mining accelerator with up to 45 MH/s, MSI NVIDIA CMP 50HX Miner, based on the CMP 50HX — as part of the CMP-HX series from Nvidia — for the mining of cryptocurrencies.
According to the official datasheet, MSI NVIDIA CMP 50HX Miner is a TU102 chip of the Turing generation; it has 3584 active shader units at 1350 MHz and can be accelerated to 1545 MHz by means of boost. There is also a 320-bit wide interface with 10 GB GDDR6 video memory that runs at 14 GBit/s. The card should need 225 watts and reach a hash rate of up to 45 MH/s.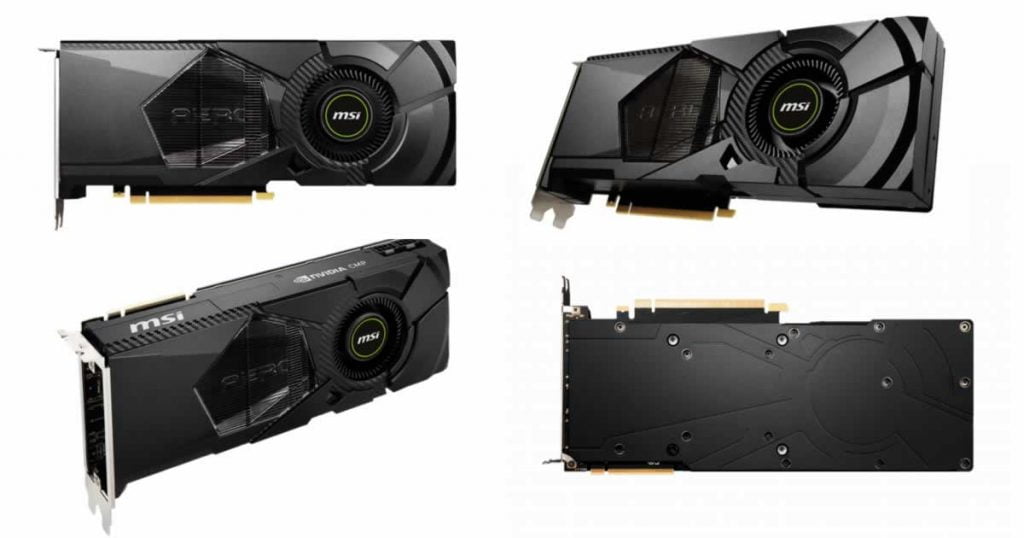 With its specifications, the mining GPU is technically positioned between the GeForce RTX 2080 Ti (4352 ALUs, 352 bits, 11 GBytes) and GeForce RTX 2080 Super (3072 ALUs, 256 bits, 8 GBytes) graphics cards and takes a position above the CMP 30HX and CMP 40HX in the CMP-HX portfolio. So far, there is still no trace of the most powerful CMP 90HX.
The MSI NVIDIA CMP 50HX Miner is only connected via PCIe Gen3 x4 instead of x16, as ETH mining takes place entirely in the video memory. MSI uses DHE cooling with a radial fan, which, due to the lack of a slot cover, works better than cards with monitor connections. For this reason, the low x4 bandwidth and the firmware that is very likely, not easy to change, the 50HX card is of no interest for gaming systems.
On the other hand, the GeForce models that have been slowed down by the Mining Brake 2.0 and the corresponding cards are marked with an LHR addition (Lite Hash Rate).
In addition, countries such as China, which are particularly popular for ETH farms, have banned crypto mining, and Ethereum will be switched from Proof of Work to Proof of Stake in 2021. Since May, the exchange rate has slumped from over 4,000 US dollars to around 1,900 US dollars, which has made the currency less attractive.
Regardless of the limited availability and the often absurdly high prices, Geforce graphics cards are apparently selling very well. Current innovations such as the Geforce RTX 3080/3070 Ti should further boost sales. For the second quarter of 2021, Nvidia expects total sales of 6.3 billion US dollars, of which 400 million US dollars will be solely attributable to the CMP cards.