Intel has officially declassified the specifications of Arc Alchemist desktop graphics cards — we are talking about the models A770, A750 and A580.
The chips continue to follow the pattern already known from the Core i processors — the Arc A300 series represents the entry-level, Arc A500 is the middle class, and at the high end, there is the Arc A700 graphics card.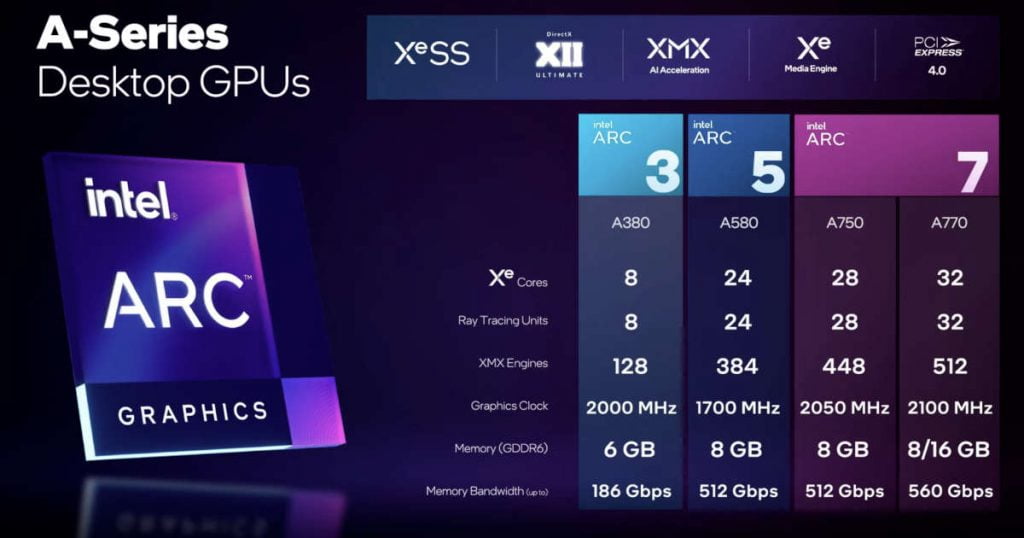 The flagship A770 received an ACM-G10 GPU with 32 Xe cores, 32 ray tracing units and 512 XMX matrix engines. It will have 8 or 16 GB of GDDR6 memory with a maximum memory bandwidth of 560 GB/s, and the video card will operate at a frequency of 2100 MHz.
The Arc A750 model will use the same ACM-G10 processor but with 28 Xe cores, 28 ray tracing units, and 448 XMX matrix engines. It will have 8 GB of GDDR6 memory at 512GB/s bandwidth.
The Arc A580 is also based on the ACM-G10 GPU but with 24 Xe cores, 1700MHz clock speed, 8GB GDDR6 memory and up to 512GB/s bandwidth.
In addition, Intel has not announced any specific start date for sales and no price information for the models. Earlier Intel has officially announced its first dedicated Arc family GPUs.