Signal, the messaging application focused on privacy, has tried to start an advertising campaign using Instagram that really showed how well the social network knows us. 
In the Signal blog, the team explains that they tried to display ads for their application on Facebook and Instagram. These ads apparently did not reach users, allegedly after Facebook blocked them and expelled them from the advertising network.
In the announcement, the team says, "Companies like Facebook aren't building technology for you, they're building technology for your data. They collect everything they can from FB, Instagram, and WhatsApp in order to sell visibility into people and their lives."
The ads are very simple, and there is a certain picaresque about their creation. Advertisers using Facebook can set their advertising so that it can only be seen by customers they are interested in. For example, a car ad that is only shown to those who have an interest in cars.
One potential problem is that these ads can be so personalized that you can basically create one ad for each person. It is something that the creators of Signal, the secure messaging app, have demonstrated.
Its latest advertising campaign created personalized ads for each user who viewed them, based on the different interests and data that Facebook owns.
An example of an ad is: "You have received this ad because you are a [occupation] with a [educational level] and you are in [marital status]. This ad used your location to see that you are in [location]. Your online activity shows that you are getting interested in [interest] and will probably go there in your new [vehicle]." Words in brackets indicate data obtained from Facebook.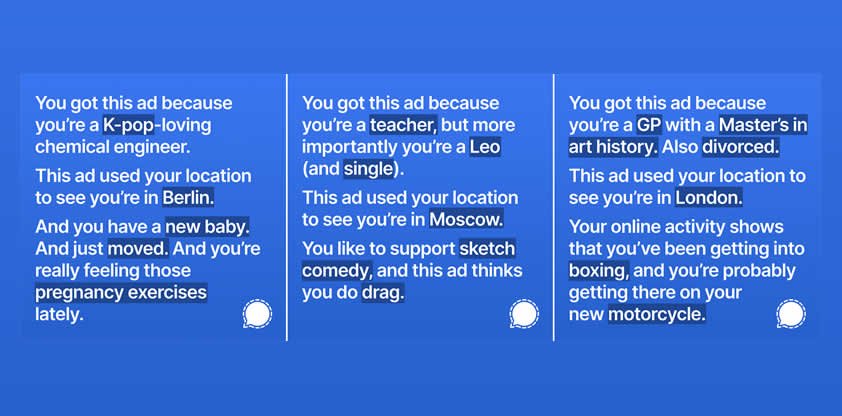 It must be clarified that this does not mean that Signal has obtained this data. As we have indicated before, advertisers do not receive the data directly. What it does mean is that Facebook has all that data and does not hesitate to use it for advertisers to contact us directly.
It is obvious that Facebook did not like this experiment at all. Not only has it blocked ads, but it has also restricted Signal from its platform. The app will no longer be able to show its ads on Facebook or in the rest of its apps, such as Instagram. Recall that the great competitor of Signal is WhatsApp, owned by Facebook.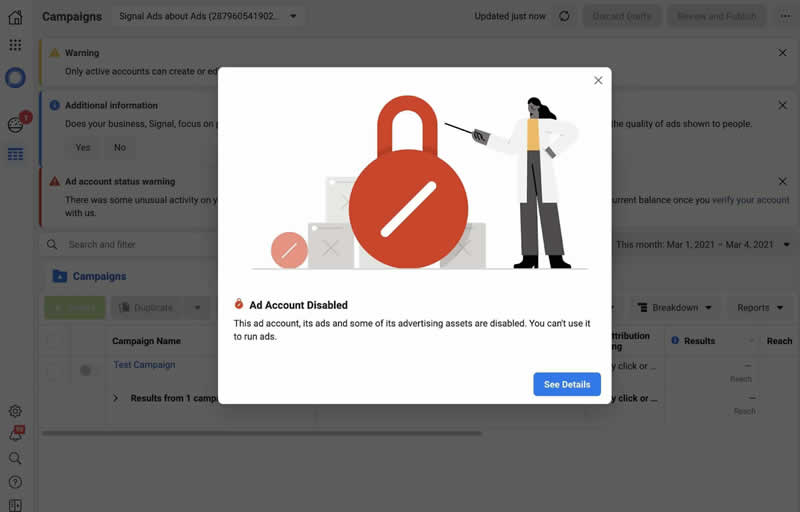 Joe Osborne, a Facebook representative, has harshly criticized what he calls a "marketing stunt", accusing Signal of not creating those ads and that only a couple of them would have been rejected, those showing medical conditions or sexual orientation. It also claims that Signal was temporarily banned for a payment issue and not for ads it created.
By contrast, Signal has responded by posting screenshots showing his account blocked, reaffirming that he tried to serve the ads but were rejected.