MediaTek announced its new flagship SoC, Dimensity 9200. The specifications are the same as the leaks. It is the company's first flagship chip that supports Arm's new Cortex X3 CPU, Immortalis GPU, and millimetre wave 5G, and it has the highest-class processing performance. It is said that the maximum speed of 6.5 Gbps is achieved using the chipset, improving reliability and reducing delay. It is also the first Wi-Fi 7-ready SoC.
MediaTek's latest high-end SoC is manufactured on the 2nd generation TSMC 4nm process and fully utilizes Arm's latest CPU technology. One Cortex-X3 core (3.05GHz) achieves the highest class performance of the Armv9 generation, three middle-class Cortex-A715 (2.85GHz), and four Cortex-A510 (1.8 GHz ) that specialize in power saving performance. It has 8MB of L3 cache and 6MB of system-level cache. Regarding cache, it is similar to Dimensity 9000.
MediaTek also claims that the Dimensity 9200 is the first 64-bit dedicated smartphone SoC. So some older 32-bit apps won't run on phones with this processor. This is a different approach from the Google Pixel 7 series, where the Tensor G2 technically offers 32-bit support, but the software doesn't support 32-bit apps.
The biggest concern is performance. The company claims that the GeekBench 5 benchmark test shows improvement in single-core scores by 12% and multi-core scores by 10%. In addition, the same performance as the Dimensity 9000 can be achieved with 25% less power consumption.
In addition, the heat dissipation performance has also been improved by 10%, and it is said that the temperature rise time can be delayed four times compared to Dimensity 9000.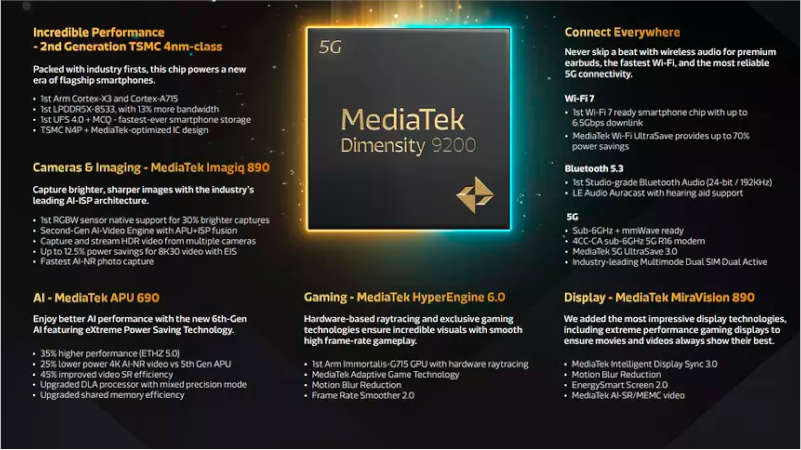 Realization of hardware ray tracing by GPU
In Dimensity 9200, the GPU is equipped with Arm Mali-G715 Immortalis MC11, and the benchmark score of Manhattan 3.0 is said to be improved by 32% compared to the conventional SoC.
In addition, the GPU enables hardware-accelerated ray tracing support for the first time. This isn't the first-time hardware ray tracing has been used on smartphones — the infamous Samsung Exynos 2200 found in some models of the Galaxy S22 also offers hardware-based ray tracing. To MediaTek, the first game to support the Dimensity 9200's ray tracing capabilities will launch in the first half of 2023, although the specific titles were not revealed.
The Dimensity 9200 GPU also supports features such as variable rate shading, Vulkan 1.3 and the HyperEngine 6.0 gaming feature.
Enhanced camera support
MediaTek has also improved the camera by providing the Imagiq 890 Image Signal Processor (ISP). According to the company, it will be able to use AI technology to understand the foreground and background of a scene (people, sea, sky, etc.) and adjust saturation and colour accordingly.
In addition, it aims to reduce blurring with dual-stream AI shutter technology, using two camera streams (for short exposure and long exposure) and fusing them to reduce blurring. It also claims native support for RGBW camera sensors and 12.5% ​​power savings when shooting 8K/30fps video with electronic image stabilization.
Other Features.
The Dimensity 9200 is MediaTek's first flagship processor to support mmWave 5G with an M80-based modem and is said to deliver speeds of up to 7.9Gbps ​​downlink. The modem also offers 8CC for mmWave, 4CC for sub-6GHz 5G and our 5G UltraSave 3.0 solution.
On the AI ​​​​side, MediaTek has introduced the APU 690 6th generation machine learning silicon, reportedly increasing peak clock speed by 18% and improving power efficiency by 30%.
Other highlights include Bluetooth 5.3, 240Hz refresh rate at FHD+ resolution, 144Hz at WQHD resolution, LPDDR5X RAM support (8,533Mbps), UFS 4.0 storage support, and Wi-Fi 7 capability.
The first Dimensity 9200-powered smartphones are expected to hit the market by the end of 2022. It's unclear if these first devices will launch in the global market or just in China. Still, MediaTek did say that Dimensity 9200 smartphones will be more widely available than Dimensity 9000 devices.